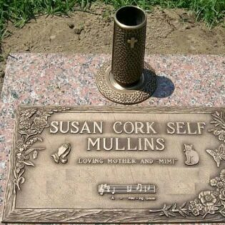 Bronze Plaques are set near the place where the departed is buried. The name, date of birth and date of death are usually written on it. Close friends or relatives may write a few words of their own to express their grief and pain from the loss. Modern technology makes it possible to produce Bronze Plaques in any shape and form and add information in a multitude of ways.
What are Bronze Plaques made of?
A quality produced Bronze Plaque with information will contribute to the decoration of the gravesite. The material should be durable and the colours should not deteriorate. Such material is bronze or a combination of bronze and granite.
However, other materials are also used:
Iron;

Metal;

Plastic;

Marble;

Ceramics;

Natural stone.
Each material has its own advantages and disadvantages.
Iron and metal products are cheap and easy to make. However, if they are not taken care of, they lose their attractive appearance quickly.
Ceramic products are durable, but they break and crack easily.
Plastic is usually only used for temporary signs. The service life of a plastic sign is only 3 years. Three years later the colours will fade and the surface will become scratched and cracked.
How are Bronze Plaques fitted?
Bronze Plaques are set into the ground with special constructions. Bronze Plaque itself is mounted on a granite base. The base is buried in the ground. The metal parts are covered with a special compound to avoid corrosion.
Bronze Plaques with granite base
The basis that combines affordability, reliability and an attractive appearance is granite. Bronze Plaques with a granite backing can replace a full-blown memorial. Granite allows the information to be engraved. This method is considered the most durable, and the design itself does not require complex maintenance and paint updates.
Advantages of Bronze Plaques with Granite Backing
You can engrave textual information and add a portrait of a person. Modern equipment allows to create a perfect portrait;

Beautifully designed for an elegant presentation and to honour the memory of the departed;

You can choose any shape – rectangular, round or oval and any individual design;

We can supplement the front side with any decorative elements – flowers, religious symbols, patterns, a vase for flowers.

Bronze Plaques with granite base allows for a decent decoration f the grave of a loved one at low cost.
Arcadia Monuments company offers different variants of Bronze Plaques. You can view the standard Bronze Plaques designs in our catalogue. If you are interested in a bespoke design, please contact us to discuss.